Our History: Grinnell People in the News

  Further reading about Tom Valenti


Ouest

Ouest Side Story

(New York Magazine, March 2002)

Parade Magazine Article

Restaurant Insider

You Don't Have to Be Diabetic to Love

This Cookbook

Windows of Hope

(Blisstree, September 11, 2008)

fourth floor, Bunning and his bulldog greeted Tom and Abigail at the door and ushered them into a 2000+ square foot apartment, with a library, living room, and dining room opening grandly from the foyer. They were overwhelmed by the space and elegance, but Bunning's asking price was more than they were willing to pay at the time and since he already had interested buyers, negotiating the price wasn't an option. However, Tom and Abigail's seed of interest paid off several months later when Bunning's neighbor Lewis Jones mentioned that he was interested in selling his apartment, a similar size to Bunning's and several floors higher. Bunning passed along Tom and Abigail's number to Jones, Jones called, and once again Tom and Abigail found themselves driving up to the Grinnell. This time, their trip paid off. In one of the faster deals in Manhattan real estate, they made an offer on the spot, Jones accepted, and they became the first and only people to see the apartment while it was on the market. After some renovations, Tom and Abigail moved into the Grinnell on August 31st, 2000.

Because the Grinnell was so central to their home in the Catskills and to Tom's restaurant on the Upper West Side, they really didn't think they would ever live anywhere else, but as Tom admits, he and Abigail are both country kids and over the next decade began thinking more and more about waking up in the morning, making their coffee, and going outside to breakfast with nature. So, they began looking for a country home a little closer to Manhattan than the Catskills. When they found the right house in the Poconos, a forty-minute commute from the city, they realized the time was ripe to make the transition from urban to country living.

Departing the Grinnell after a decade – to the month – Tom and Abigail admit they will miss "the Grinnell's dynamic and the diversity of its inhabitants – such an interesting group of people from its inception to now" – but will always feel like they are part of 800 Riverside Drive.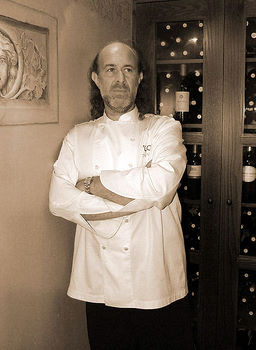 "We were coming home from the Catskills and the traffic was backed up on the West Side Highway, so we got off at 158th Street. And when we came up the hill and turned onto Edward Morgan Place, Abigail said, 'Wouldn't this be a great place to live instead of Brooklyn?'"

That's Chef Tom Valenti's description of how he and his wife Abigail Wolcott found the Grinnell. They were living in Fort Greene, spending weekends at a cabin in the Catskills and Tom had just signed a lease for
Ouest
, a restaurant he was opening on Broadway at 84th Street. They realized that the time was right to move from Brooklyn, so they started looking on Riverside Drive the following week, only to find that Columbia University owned many of the apartment buildings on the lower portion of the Drive, leaving some buildings unavailable and others very pricey. So, they began working their way northward, eventually arriving back at 158th and Edward Morgan Place, where Abigail pointed at the Grinnell and said, "That is a magnificent building, we should live there." Tom's reply? "You're crazy; do you want to live in this neighborhood?"
Despite his misgivings, Tom was interested enough to check the New York Times Sunday Real Estate Section – even more interested when he saw that an architect, Nicholas Bunning, had listed his apartment at…the Grinnell. Tom immediately called Bunning, arranged for an appointment, and drove Abigail back uptown to the Grinnell, the second visit to the building in one day.

Tom remembers walking into the Grinnell and thinking that the well-kept public spaces were a good sign  that the residents cared for their building.  On the

Tom's Professional Bio from the Ouest website
Tom Valenti is one of the most revered chefs in New York. Although his intensely flavored cooking has drawn raves from the food press for over a decade, Valenti has earned some of his most rapturous praise over the last two years. In her 1998 review of Butterfield 81, then New York Times restaurant critic Ruth Reichl characterized Valenti as a "clairvoyant in the kitchen" because of his uncanny talent for understanding what diners like to eat. Gael Greene named him one of her top ten favorite chefs in the January 1999 "Where to Eat Now" issue of New York Magazine. And Ed Levine, author of New York Eats, recently dubbed him "Flavor King of New York." In 2007, Tom Valenti purchased Ouest Resturant and became controlling owner.

A native of Ithaca, New York, Valenti began his life in the kitchen while still a high school student when he joined the staff of L'Auberge Du Cochon Rouge, a French restaurant in his hometown where he apprenticed to chef Etienne Merle. After graduating from high school, he served as a chef at a private estate in Westchester before beginning his long association with restaurateur Guy Savoy, first as a pastry chef for a Savoy-owned restaurant in Westchester, and then as chef tournant for Savoy's Paris restaurant.

Returning to the United States, Valenti worked as a line cook at several flagship restaurants before becoming Alfred Portale's first sous chef at the famed Gotham Bar and Grill. This led to executive chef positions for Valenti at Cafe Greco, Restaurant Giancarlo and Chelsea Central.

Tom Valenti's cuisine broke through the New York clutter when he became the first executive chef at Alison on Dominick, the West SoHo bistro where he was catapulted to stardom. In 1989, Esquire magazine dubbed this romantic rendezvous the "Best New Restaurant" in New York City, while Food and Wine magazine lauded Valenti as one of the country's "Ten Best New Chefs" in 1990. At Alison, Valenti's vast experience culminated in the creation of the bold, Southern France-influenced cuisine that has become his trademark.

At his next restaurant, Cascabel, Valenti took this unique fare to an even higher level, earning rave reviews from critics and the top spot on Ruth Reichl's list of favorite restaurants in 1994.

And, just when it seemed that his food could not get any bolder, tastier or memorable, he unveiled a menu at Butterfield 81 in 1998 that surprised even his most ardent long-time fans. By consistently challenging himself, he has continued to take his style to the next level, extracting more and more flavor from his favorite ingredients and discovering new and exciting combinations.

He is the author of four books, Tom Valenti's Soups, Stews, and One-Pot Meals: 125 Home Recipes from the Chef-Owner of New York City's Ouest and 'Cesca, Welcome to My Kitchen: A New York Chef Shares His Robust Recipes and Secret Techniques, and You Don't Have to Be Diabetic to Love This Cookbook.

In 2001, Valenti established Windows of Hope, a 501c3 nonprofit organization to benefit families affected by the events of September 11th. It has raised more than $23 million to help the 124 families and 150 children whose lives were forever altered by the tragedy.

Spotlight on Grinnell

News-makers Past and Present

The residents of 800 Riverside Drive celebrating community, a unique sense of place, and an architectural gem