Glacier National Park in northwestern Montana, is well over two thousand miles from The Grinnell.  What could a million acres of parkland have in common with a

nine-story apartment building sitting on a triangular plot in northern Manhattan?  Well, for one thing, both are celebrating centennials this year. But the cross-continent bond goes much deeper than that. Glacier National Park and the apartment building at

800 Riverside Drive share a common heritage, traced back to one man:

George Bird Grinnell.

Grinnell residents ride the subway daily, to and from work, to the theatre, to social events, to shop, walking only a few hundred feet to the entrance to the 157th Station. In our haste, we spare little time reflecting on the relationship between our building and the rapid transit that moves us to our destinations, but without the subway, the Grinnell would not have existed, at least not in its present form. Take a trip back more than a century and revisit Audubon Park when the Grinnell was a cow pasture and the population of the blocks between 155th and 157th Streets numbered less than 100.

Designed by Schwartz and Gross who also executed Rhinecleff Court that you examined earlier, the predominantly brick façade rests on of a rusticated granite base that runs continuously around the first floor, with stepped sections that rise to the second floor at the corners and mid-block.  As you walk up the block towards the awning that marks the main entrance, you will notice ornamental brick sections rising above the two-story portions of the base.  Unique among apartment buildings in Audubon Park, the Grinnell apartments have never been sub-divided.

The Audubon Park Historic District

The Audubon Park Historic District

Designation Report

The World's New York Apartment House Album

Wikipedia

We Share Our Name with...

centennial in 2010)

The Battle of Fort Washington

In 1776, during the Battle of Fort Washington, George Washington crossed the Hudson and worked his way up to his headquarters (today the Morris-Jumel Mansion) following a stream that still flows beneath the Grinnell, so while we can't say "George Washington slept here," we can with some certainly claim he "stepped here."

Christmas morning 1911, one hundred Sunday school children marched out of the Gothic church at the corner of Broadway and 158th Street. Singing Christmas carols and bearing a large holly wreath, they processed along Broadway to 155th Street, then down the steep hill towards the river and through the gates into Trinity Cemetery. Their destination was a simple gravestone only a few yards from the high wall at the cemetery's western border, a stone marking the burial place of Clement Clarke Moore, Biblical scholar, Professor of Classics at the General Theological Seminary in New York City (which he founded), author of a Hebrew Lexicon, and most remembered for composing the perennial Christmas favorite, A Visit from St. Nicholas (better known as 'Twas the Night Before Christmas). A century later, despite decades of change at the church and in the community surrounding it (and despite compelling evidence that Moore didn't actually write the poem) the tradition the Sunday school children inaugurated that Christmas morning continues.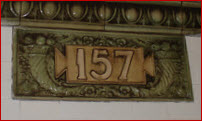 Click map for larger view.

The residents of 800 Riverside Drive celebrating community, a unique sense of place, and an architectural gem