Our History: Grinnell People in the News

Max Bond, Jr.

Architect Max Bond was living at the Grinnell when he died in February 2009. Descended from a prominent African-American family that included his father Max Bond, Sr., the President of the University of Liberia, and cousin Julian Bond, Max Bond, Jr.earned his bachelor's and master's degrees at Harvard.

He co-founded the architectural firm of Bond Ryder & Associates with Donald P. Ryder, a firm that counted the the Arthur Schomberg Center for Research in Black Culture (Halrem) and the Martin Luther King Jr. Center for Nonviolent Social Change (Atlanta) among its achievements. After Ryder's retirement, the firm merged with David, Brody & Associates, becoming David Brody Bond. That firm was responsible for the designs of the Riverbend Houses and Zeckendorf Towers.

At the time of his death, Bond was working on the museum portion of the
National
  Further reading about Max Bond: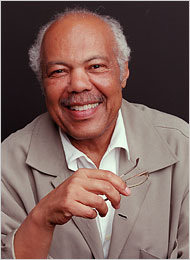 Photo: Fred R. Conrad/The New York Times

Click images for a larger view.

Spotlight on Grinnell

News-makers Past and Present

The residents of 800 Riverside Drive celebrating community, a unique sense of place, and an architectural gem