Our History: Grinnell People in the News

Rear Admiral Conway Hillyer Arnold

When Conway Hillyer Arnold was born in New York City, November 14, 1848, the land where the Grinnell now sits was a dense thicket bordering Minnie's Land, John James Audubon's farm in northern Manhattan. More than sixty years later, when Rear Admiral Arnold and his wife Fannie moved into the newly-opened Grinnell, shortly after he retired as Commander of the Third Squadron of the Atlantic Fleet, all vestiges of the rural Minnie's Land had disappeared beneath apartment buildings, sidewalks, and paved streets. During the decades that Minnie's Land was progressing from farmland to cityscape, Arnold was working his way through the ranks of the United States Navy, ending his career when he reached the mandatory retirement age, 62.

Arnold's first commission was in 1868 (Ensign). He rose to Master in 1870 and Lieutenant in 1871 and in 1892 was commissioned Lieutenant Commander.  He became a Commander at the outbreak of the Spanish American War and Captain in 1902. Six years later he achieved the rank of Rear Admiral.  From 1892 to 1894, he had been in charge of the Branch Hydrographic Office and in 1902 became President of the Naval Board on Wireless Telegraphy.

Arnold came from a military family. His father, Commander Henry Nathan Tewkesbury Arnold, had commanded the Chicopee and his great-grandfather Lieutenant-Colonel John Conway fought in the Revolutionary War, qualifying his male descendents for membership in the
Society of Cincinnati
,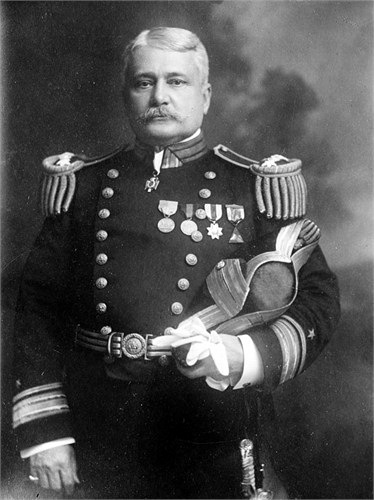 Though both of Arnold's sons began military careers, neither saw active service. In December 1897, shortly after receiving an appointment to the United States Military Academy, Arnold's son William, suffering from severe headaches following a skating accident, shot himself in the head and died. A decade later, in 1908, the other son, Conway Hillyer Arnold, Jr., died of tuberculosis in Denver, Colorado, while in training prior to leaving for Europe. When his widow died two years later in an accident at Broadway and Sixty-sixth Street, Rear Admiral Arnold and his wife became guardians of their two grandchildren, Conrad H Arnold, III and Frances.

Rear Admiral Arnold became seriously ill in early 1917 and died at the Grinnell on July 16, 1917. After a funeral in New York, he was buried in Oak Hill Cemetery in Washington, D.C.

Spotlight on Grinnell

News-makers Past and Present

The residents of 800 Riverside Drive celebrating community, a unique sense of place, and an architectural gem